Keystone State Games, Inc. & Premier Amateur Sports, LLC.
in cooperation with the White Rose Figure Skating Club welcomes you to the 30th Annual Pennsylvania Skating Championships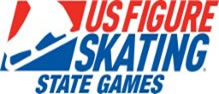 Compete against the best from throughout the state and beyond in Olympic-style competition for Gold, Silver, and Bronze medals, and 4th-6th place ribbons.
This is a qualifying event for the 2017 State Games of America
Registration is NOW open and will remain open until Sunday, February 12, 2017 at 11:59 PM (US/Eastern)
REGISTRATION FOR 2017 WILL GO THROUGH ENTRYEEZE!!! CLICK ON THE LINKS BELOW TO GO DIRECTLY TO THE REGISTRATION LINK

DIRECT LINKS TO REGISTRATION:
Location: York Ice Arena, 941 Vander Ave., York, PA  17403 Phone: 717-848-1084
Dates:  March 18-19, 2017
Competition Eligibility: This competition is sanctioned by U.S. FIGURE SKATING

Competition is open to all female and male skaters who are Pennsylvania, Maryland, Delaware, Washington D.C., Ohio, and West Virginia residents of eligible athletic status (or any athlete in a state that does not have figure skating as part of their State Games). Skaters must also be in good standing with either the U.S. FIGURE SKATING.  Age and test status as of January 3, 2017 determines skater's level. U.S. FIGURE SKATING skaters may compete at their passed and registered freestyle test levels or one level higher.

REGISTRATION INFORMATION:
Register Online – All registration will be done online this year.  Mail in registrations will NOT be accepted.
Entry Fee: First event fee is $85, Additional events are $30 each.   Once the registration has been completed, skaters will not be allowed to enter additional events, unless the athlete completes an additional registration and pays an additional first event fee.
Entry Deadline: Sunday, February 12, 2017. Walk-on registration will not be accepted.
Competition Guidelines:
U.S. FIGURE SKATING Competition and Standards: U.S. FIGURE SKATING competition will be held Saturday and Sunday, March 19-20, 2016 and Friday March 18 if needed, and will include Free Skate, Artistic, Showcase, Solo Dance, Compulsory Moves, Pro Am Dance, Basic Skills, Pairs, Synchronized and Competitive Test Track. Adult Free Skate will be held Saturday, March 18. The 2017 U.S. FIGURE SKATING Rule Book will govern the competition. The 6.0 judging system will be used.

U.S. FIGURE SKATING Coaches: You must comply with the coach's registration requirement in order to be allowed to coach at the Pennsylvania Skating Championships per U.S. FIGURE SKATING rules. 
Music: Skaters must furnish their own music. Only CDs are acceptable. Only one track per CD and no re-writable CDs. CDs must be clearly marked with the skater's name and event. All music must be checked-in at the registration desk one hour before each skater's event. Music must be picked up immediately after the skater's event. Keystone State Games will provide all solo dance music.
Awards: Medals will be awarded to skaters placing first, second, or third in each event. Ribbons will be awarded to skaters placing fourth, fifth, or sixth in each event. A trophy will be given to the U.S. FIGURE SKATING club with the most points in all U.S. FIGURE SKATING events. A trophy will be given to the ISI rink with the most points in all ISI events. The points for the trophies will be 6 pts. for first, 5 pts. for second, 4 pts. for third, 3 pts. for fourth, 2 pts. for fifth, and 1 pt. for sixth.
Contacts:       
Competition Chair & U.S. Figure Skating Coordinator: Leanne Abugov, 717-413-6679, abugov@msn.comKSG Director of Events:   James J Costello –570-760-0352 Cell or jcostello@ksgoffice.com
Chief Referee: Jane Reno, dyreno@verizon.net
Chief Accountant: Joanne Nipple
Music Coordinator: Bill Bikle
Rink Description: York City Ice Arena has two ice surfaces that are 200'x85'. Competition will take place on both rinks. Locker rooms will be available. Teams with ten or more skaters will be assigned locker rooms on a first in, first assigned basis. The snack bar will be open during the competition.

Practice Ice: Practice ice may be available depending on the final schedule.  A tentative schedule of available practice ice will be available on the WRFSC website at www.whiterosefsc.org
Schedule Of Events: The schedule of events is determined by the total number of entries and by the number of entries in each event. Adult Freestyle will be held Saturday, March 18. A tentative schedule of events will be posted on the White Rose FSC site at www.whiterosefsc.org on or before March 6, 2017.
Opening Ceremonies/Exhibition Skating Performance: Saturday, March 18 at approximately 12:00 PM will be the Opening Ceremonies of the 2017 Games. The event will include a Torch/Flag Skate, Parade of Athletes, the National Anthem, and the traditional ―Ringing of the Bell. Athletes should be ready to enter at 11:45 AM. Skate clubs are encouraged to bring their club flag to march behind. Attendance is not required, but is encouraged. There will not be an admission charge for the Opening Ceremonies.

Visit the White Rose Figure Skating webpage www.whiterosefsc.org for up-to-date information on the upcoming 2017 Pennsylvania Skating Championship